Four-Phase Lean Implementation Model
"The approach Joyce uses is a combination of teaching, action learning (applying the learning to your own situation), individual coaching and working in pairs to reflect the learning. Participants have given Joyce only excellent feedback. They particularly like her open personality, her enthusiasm, her functional expertise and her approach to teaching."
Vice President, Human Resources,
International Skin Care Company
---
"Great sensibility, empathy and capacity to identify inner weaknesses. Great coaching. She has changed me."
Vice President,
Shipping
Is your organization struggling with implementing Lean? Is your company having difficulty sustaining Lean improvements or changing to a Lean culture?
Many organizations skip over essential behaviors and skills in their Lean transformations too rapidly and focus only on Lean tools. Lean tools and methodologies will not be sustained without a culture that engages employees as partners in understanding and embracing Lean philosophies and principles.
DLI offers a Four-Phase Implementation Model developed from over 55 years working in a successful Lean culture at Toyota and implementing Lean in other organizations. DLI partners with organizations to identify needs, issues and challenges and to develop strategies and solutions to reduce the gaps between your organization's current state and future state. DLI can assist your company in implementing the strategy and plans needed to succeed in your Lean transformation.
DLI's Lean Implementation Model ensures the fundamentals gain traction and achieve success before advancing to the next, more sophisticated phase.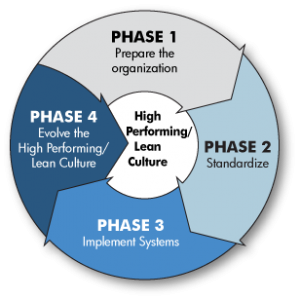 DLI provides experienced Consultation, Training, and Coaching to guide your organization through a Lean Culture Transformation.